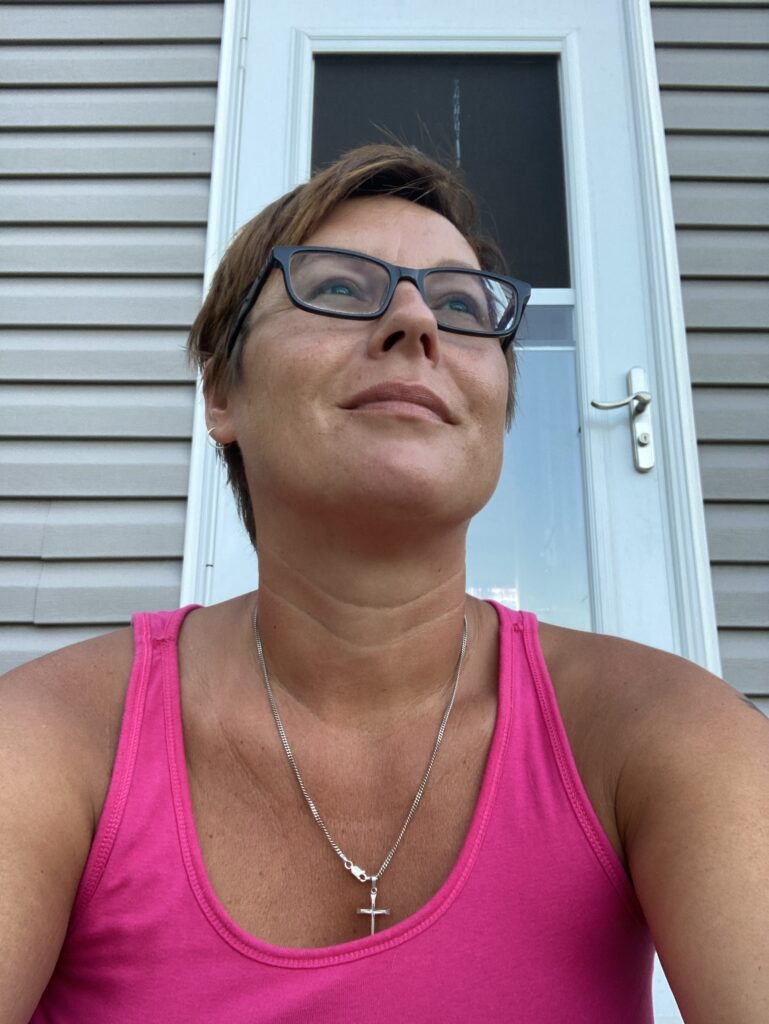 What about me? Who am I? It's harder to describe yourself than you think. It's easier to ask your good friends for their perspective, the ones that almost know you better than you know yourself, especially for someone like me, who in reality and honesty has struggled with seeing anything good or interesting to say, at least in my mind.
The basics are easy. My name is Angela, and I just turned 45 in April. I'm married to an amazing man named Colin. We've been together for 13 years, and have two golden retrievers, a mother and son pair, whose names are Goldie and Dootson. I live in the Lesser Slave Lake area in Alberta and have been there for just over 2 years now. My mom and dad are my best friends and I have one brother who works as a captain on the Edmonton fire department. I am very connected and close to my family. I grew up in Edmonton and in 2003 I moved to Yellowknife to pursue career of flying airplanes. Five years later I moved to High Level, continued onto being a medevac pilot, then onto starting my own business of teaching others how to fly. In between all of that, I battled addiction and mental health problems.
Heartache, death, a murder in the family, anger, resentments, adventure and absolutely no moderation or balance. Suicide, sadness, loneliness, isolation, secrets that kept me sick for decades. At 41, I found myself locked in a psych ward in the QEII hospital in Grande Prairie, and that's when everything came down to a spectacular ending and my new life emerged. I've always been under confident and over cautious and perhaps that kept me alive?
I'm 5 feet, 9 inches tall, I have dark brown eyes and short brown hair, but who am I? What about me? I'm an artist, a writer, an adventurer, an explorer, I'm a member of Alcoholics Anonymous and have been sober for 4 years, 2 months and 4 days and counting….I've flown all over the arctic coast and landed in unimaginable places. I've fought my whole life through and still never felt like I belonged anywhere. I have a medical condition called Major Depressive Disorder, Borderline Personality Disorder, anxiety problems and suffer from alcoholism. Most of my existence I've been my worst enemy and only now learning how to treat myself with acceptance and a bit of kindness now and then.
I am a survivor, yet played the victim the majority of my life until I received the gift of desperation and became willing enough to change all of that. What about me? I'm a giver, a hugger, I love bacon. I'm a traveler and my God, I'm finally a blogger thanks to 2 amazing friends that have seen me through hell and back. I am a story teller. I was a pilot for 20 years. I've had a lot of crazy jobs over the years and just retired my job as a butcher. I've been an aircraft refueller, a lifeguard, a farm hand, a sheet metal worker, an aircraft instructor, a step mother, and a good friend. I am a daughter, a sister, a niece, and a cousin.
My life has been one calamity after another. After all, my middle name is Mary, not moderation! I've always been an all-or-nothing girl and my greatest desire would be to help others who struggle with themselves like I do, to not feel so alone as they navigate this thing called "life." I am an entertainer, I make people smile, I have my doubts and fears, yet I'm learning to push through them.
Serenity was described to me like a calm within the storm. I have literally and figuratively navigated enough storms in this lifetime and have gained loads of experience throughout, yet serenity is elusive, but I believe I'll find it and know its true power someday.
I am but one individual amongst millions. Maybe together we can help each other find serenity? Please join me in this journey; I have many miles to go and many stories to tell. I am a work in progress and always will be. It's one adventure after another in this blog called "Calamity into Serenity."